Control of Weapons Act 1990
In November 2009, the Victorian Government sought to amend legislation covering prohibited weapons and the Police's ability to search for weapons in special circumstances. The slated changes introduced the notion of a "Designated Area", which the Police Commissioner – or that office's delegate – may declare, and in which police have unprecedented powers. This amendment was enacted through the Summary Offences and Control of Weapons Acts Amendment Act 2009 (No. 92 of 2009), and specified, among other things, that:
"A declaration under this section takes effect on the date and time specified in the notice which must not be less than 7 days after the date of the publication of the notice in the Government Gazette." – Summary Offences and Control of Weapons Act Amendment Act 2009, Section 10D(6).
In the lead-up to the time of this bill's assent, the Brumby Government was forging ahead in the polls.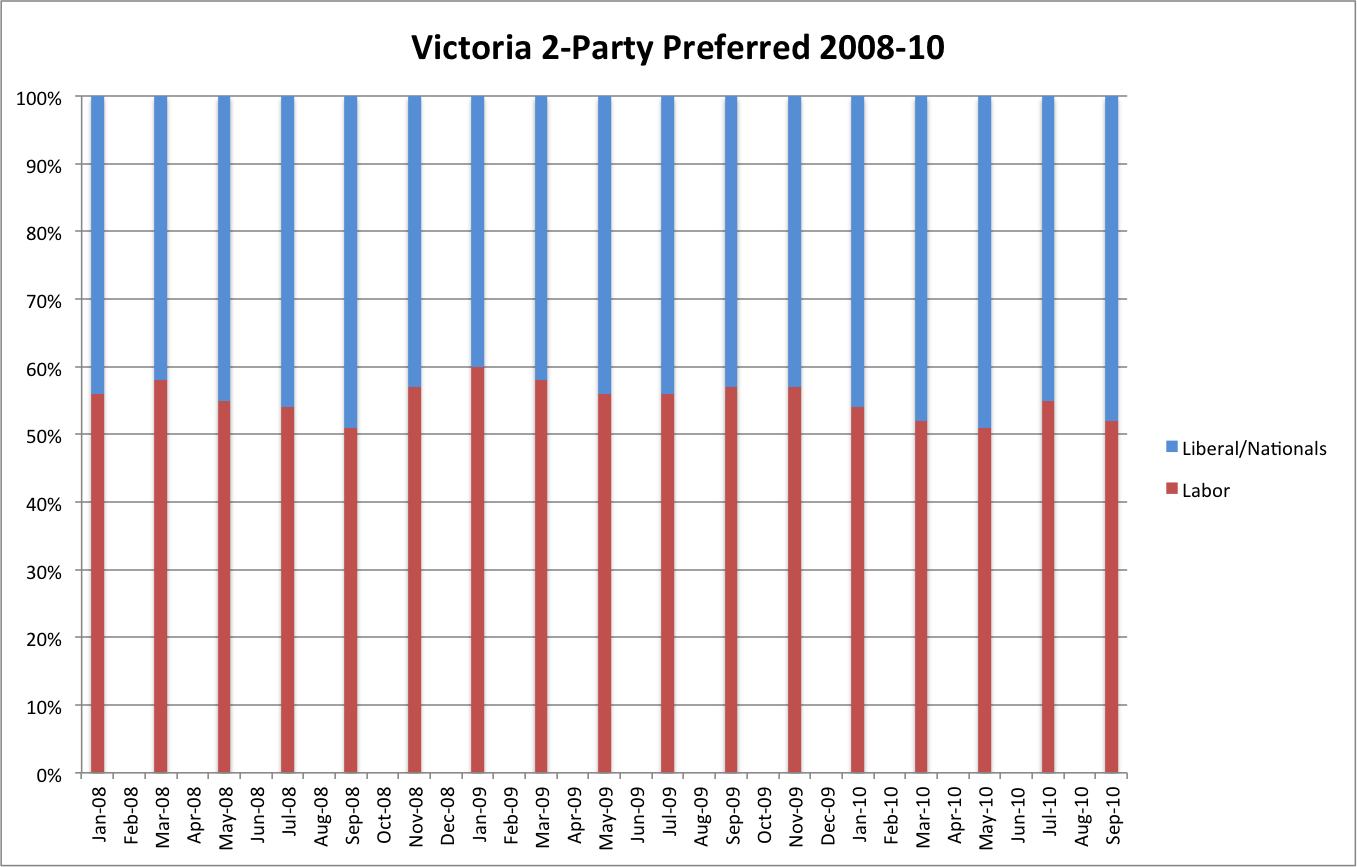 Unfortunately for the ALP, their polling flagged, partly due to the Brumby Government's difficulty in dealing with its approach to crime, which was siezed upon by then State Opposition leader, Ted Baillieu.
Baillieu's Tougher on Crime
The Baillieu Opposition's (and then Government's) approach to crime was well-publicised prior to polling day; the state Liberal/National Coalition's pièce de civil compliance was to introduce Protective Service Officers (PSOs) to every metropolitan train station in the state. Their roll-out is described and tracked here.
Amongst the suite of legislation to be brought to the parliament for debate and ultimately assent within the first year of the Government's term was the Control of Weapons and Firearms Acts Amendment Act 2012 (No. 12 of 2012). Increasing penalties for various weapon offences, this is a mostly procedural piece; excepting the following:
"For section 10D(6) of the Control of Weapons Act 1990 substitute — 'A declaration under this section has effect, after the date of publication of the notice in the Government Gazette, for the period or periods specified in the notice.'." – Control of Weapons and Firearms Acts Amendment Act 2012, Section 5.
That is to say: forget the required minimum 7 day notification period. Victoria Police can now (and has been able to since 2012) publish a declaration of a Designated Area  an arbitrary time prior to them establishing an Area. (You can, of course, choose to pay $119/year to the Victorian Government for subscription alerts based on key-words. But really, that is beside the point.)
Powers Within the Act
Generally, police have no right to search you. Or ask your name. Or, perhaps, even require you to stop when asked to. This changes when you're in a Designated Area. Section 10 G of the Act states:
"A member of the police force may, without a warrant, stop and search a person, and search any thing in the possession of or under the control of the person for weapons, if the person and, if applicable, the thing are in a public place that is within a designated area" and;
"Schedule 1 applies to the search of a person or thing under this section."
Schedule 1 states, in part:
In short, that your belongings can be examined, and your pockets turned out;
A police officer may ask you to take off your hat, coat, gloves, and shoes, and then pat you down;
If her or she is not satisfied, perform a strip search on you.
This is a dramatic deviation from regular law and order relations in the State. But, when you look at the how the law is being used, it's hardly surprising:
Designated Areas That Are Train Stations
 Designated Areas That Are Not Train Stations
Who knows what exactly residents of Geelong did to deserve this unparalleled imposition.
So, we've now had slightly more than three years of these laws, whose raison d'être is less violence and ultimately halting "Victoria's knife culture". The obvious question to pose is: has this legislation caused a decrease in the rate of assault with a weapon?
Crime Statistics
Within the class of 'assault' offences, some are much more common than others. By a country mile, the most frequently obtained conviction, at 16 425 for 2012-13, is for unlawful assault, followed by intentionally, then recklessly, causing injury; 7 468 and 4 806 respectively, for the same financial year. The full table (for 2012-13) follows:
| | |
| --- | --- |
| UNLAWFUL ASSAULT | 16 425 |
| RECKLESSLY CAUSE INJURY | 7 468 |
| INTENTIONALLY CAUSE INJURY | 4 806 |
| MAKE THREAT TO KILL | 2 825 |
| ASSAULT POLICE (SUMMARY) | 2 046 |
| MAKE THREAT TO KILL - INTENDING FEAR | 1 462 |
| RECKLESSLY CAUSE SERIOUS INJURY | 1 386 |
| ASSAULT WITH WEAPON | 1 295 |
| RECKLESS CONDUCT ENDANGER SERIOUS INJURY | 1 212 |
| AFFRAY (COMMON LAW) | 1 206 |
In amongst these, we see "assault with weapon". Since 2003-04, its prevalence in the courts looks like this: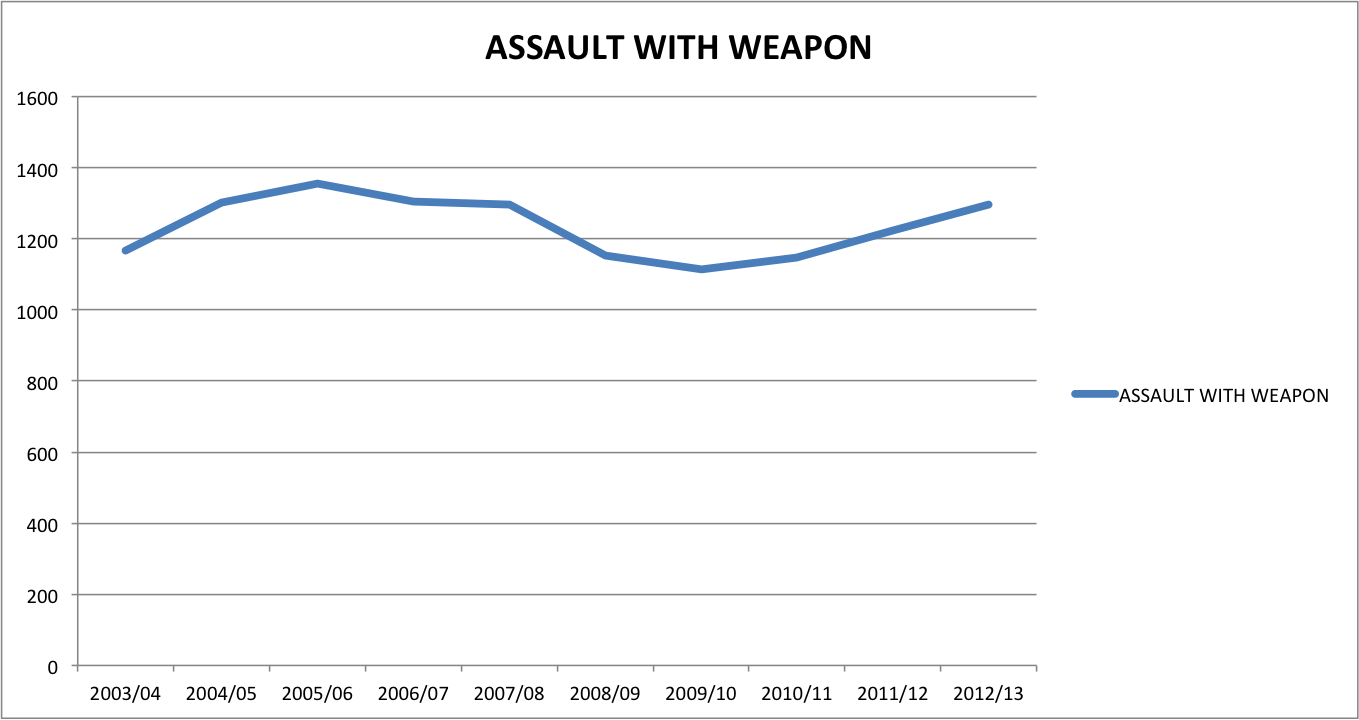 But, that's a very unfair representation to look at. We should examine it as a proportion of other assault offences who prevalence is of the same magnitude ('unlawful assault', which is ~7x as prevalent, and has a compound annual growth rate from 2003-04 to 2012-13 of 7.4%, vastly overshadows all others)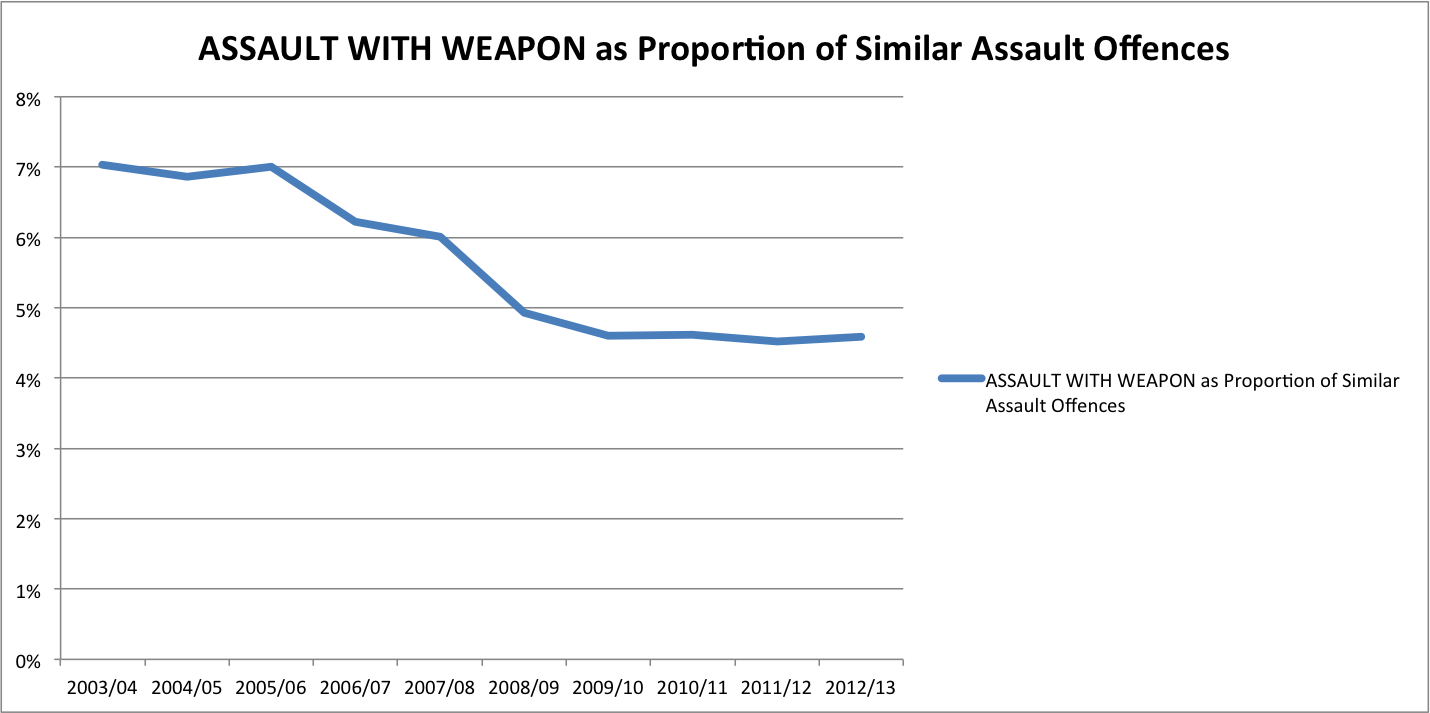 It's important to carefully interpret these graphs. The raw numbers of 'assault with weapon' show that, in absolute terms, the occurrence of weapon-related assaults was in fact decreasing in the lead-up to the 2009 amendment. The graph showing this offence as a proportion of similarly prevalent offences also shows that, proportionally for all assaults of this class, this offence was steadily decreasing. Since around 2009-10 the frequency of 'assault with a weapon' has not decreased.
Conclusion
Drawing inferences from crime data about crime prevention is fraught. It is possible that these laws have mitigated what would otherwise have been a wave of knife-related violence across the state, and it is possible that these laws have done nothing of the sort.
The Office of Police Integrity investigated the effectiveness of the laws, both as a notion in regions of the world, and as it is, in Victoria. It concluded that this programme is likely not a deterrent to carrying knives; that there is no relationship between the number of 'stop and search' activities and the change in crime rate; and that Victoria Police currently doesn't keep granular enough information to be able to infer very much at all about this programme.
But what is even more objectionable than the lack of statistical validity is the lack of warning prior to the placement of these Designated Areas, such that the public has little chance of being aware that their rights under the  Charter of Human Rights and Responsibilities may be impinged. The ability to go about your business without unwittingly walking into an Orwellian parallel universe is diminished, and with that, so too is the State of Victoria.