NSW Trains Canberra to Sydney
Trip Info
| | |
| --- | --- |
| Trip origin | Canberra Railway Station, Canberra, ACT |
| Trip destination | Central Station, Sydney, NSW |
| Trip cost | AUD$71.59 |
| Trip class | First |
| Scheduled depart | Saturday, 17:08 |
| Scheduled arrival | Saturday, 21:16 |
Overview
I had caught the plane to Canberra to arrive on Friday evening, and wanted to get back by Sunday morning, but wasn't in a particular rush. The train's scheduled arrival at a little after 9pm seemed ideal to me.
Canberra Railway Station is well-located near the Parliamentary Circle in Canberra, ACT. Central Station in Sydney does what it says on the tin.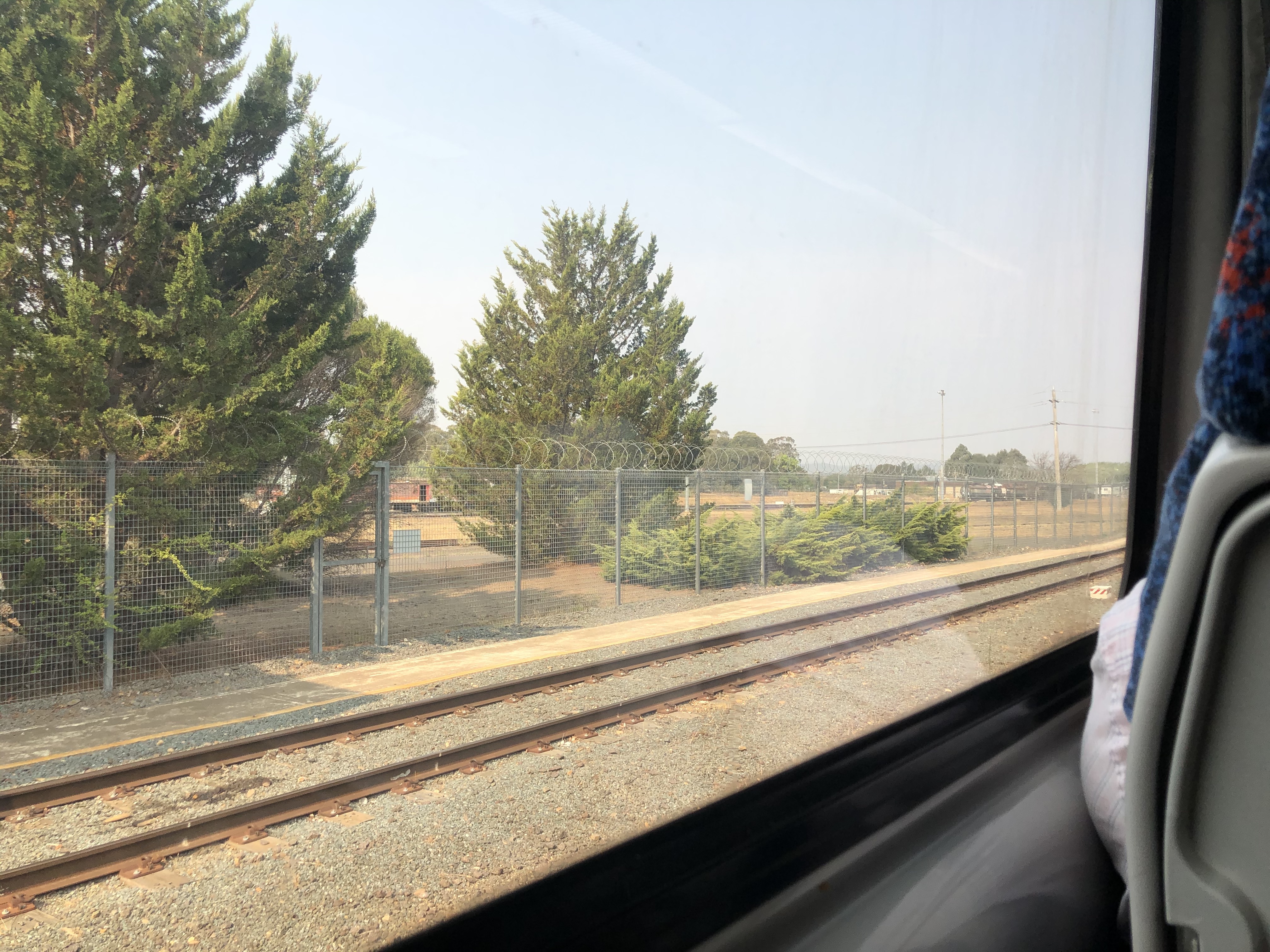 All Aboard! And Other Things That Didn't Happen
The scenery starts out as any half-seasoned rail passenger in Australia would expect: industrial views, a large collection of fridges and front-loading washing machines in a car park, then suddenly a rush — no, a brisk passing — of exposed rock by the window.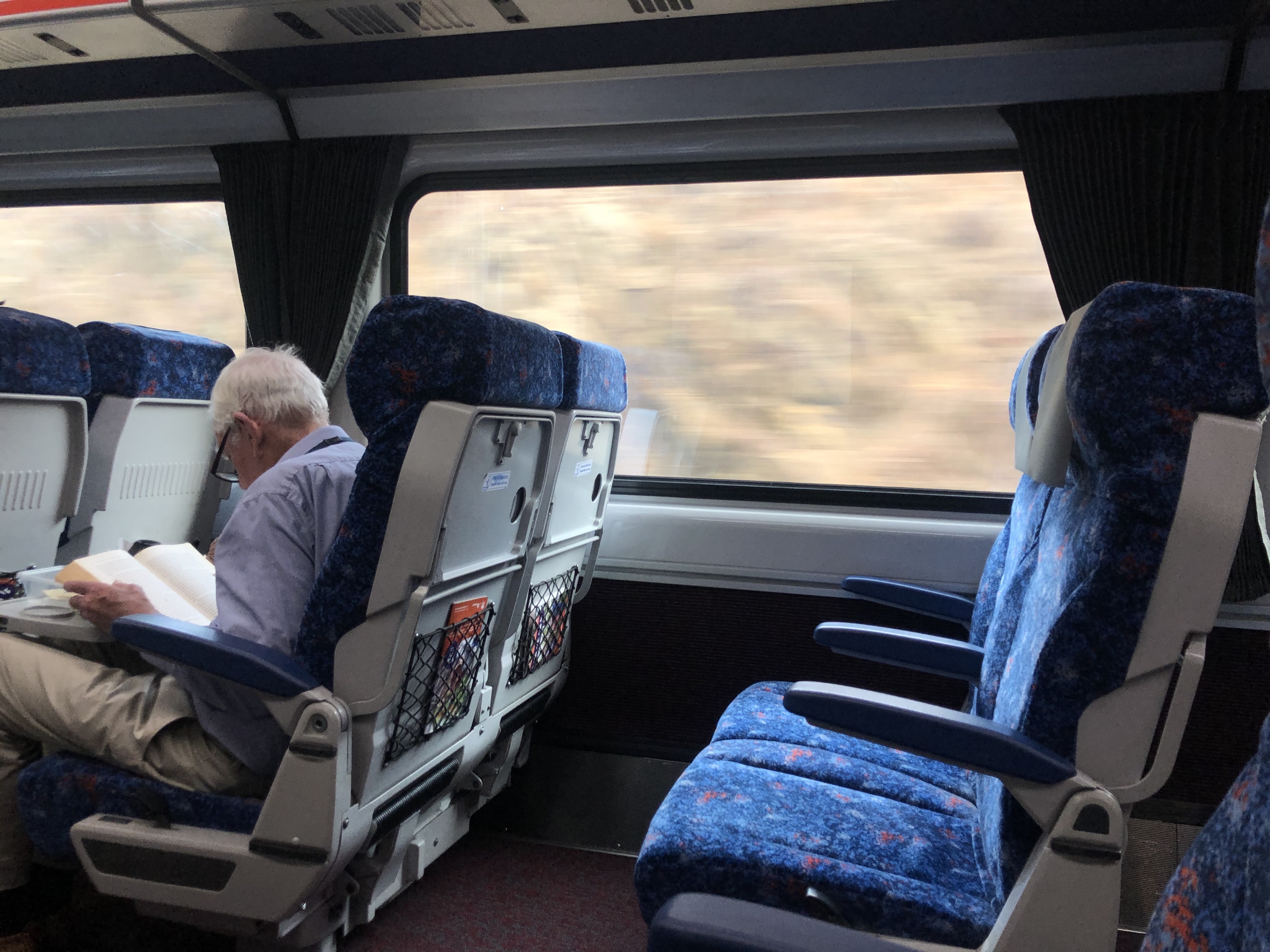 The trip on the XPT train ramps up to 60 km/h, and I reflect on my new surrounds. The seat material has the same velvet-like texture as a metropolitan Sydney bus, but is significantly more plush. The absence of the 'wet dog' smell is a bonus. I will get a bit sore from sitting here in two hours, but there is liberal licence provided with the seat recline lever. I do not immediately take advantage of the most relaxed pose available, electing to save a little for later, as a treat.
Announcements are made now that we're underway. Any dinner request will take an hour to prepare, and that there are four options: a beef brisket, a spaghetti bolognese, and two other vegetable-laden dishes I immediately disregarded and cannot recall. Orders are taken together by the conductor. All meals cost $10.50, and EFTPOS is available (no Amex). Not many of my fellow passengers order anything — preference for these train-offered meals seems to skew older, which is quite a statement given my estimate of the average age at boarding (60) — but I later come to believe they may they regret their reluctance, as 20 minutes later indistinct meat-smell wafts through the first-class cabin.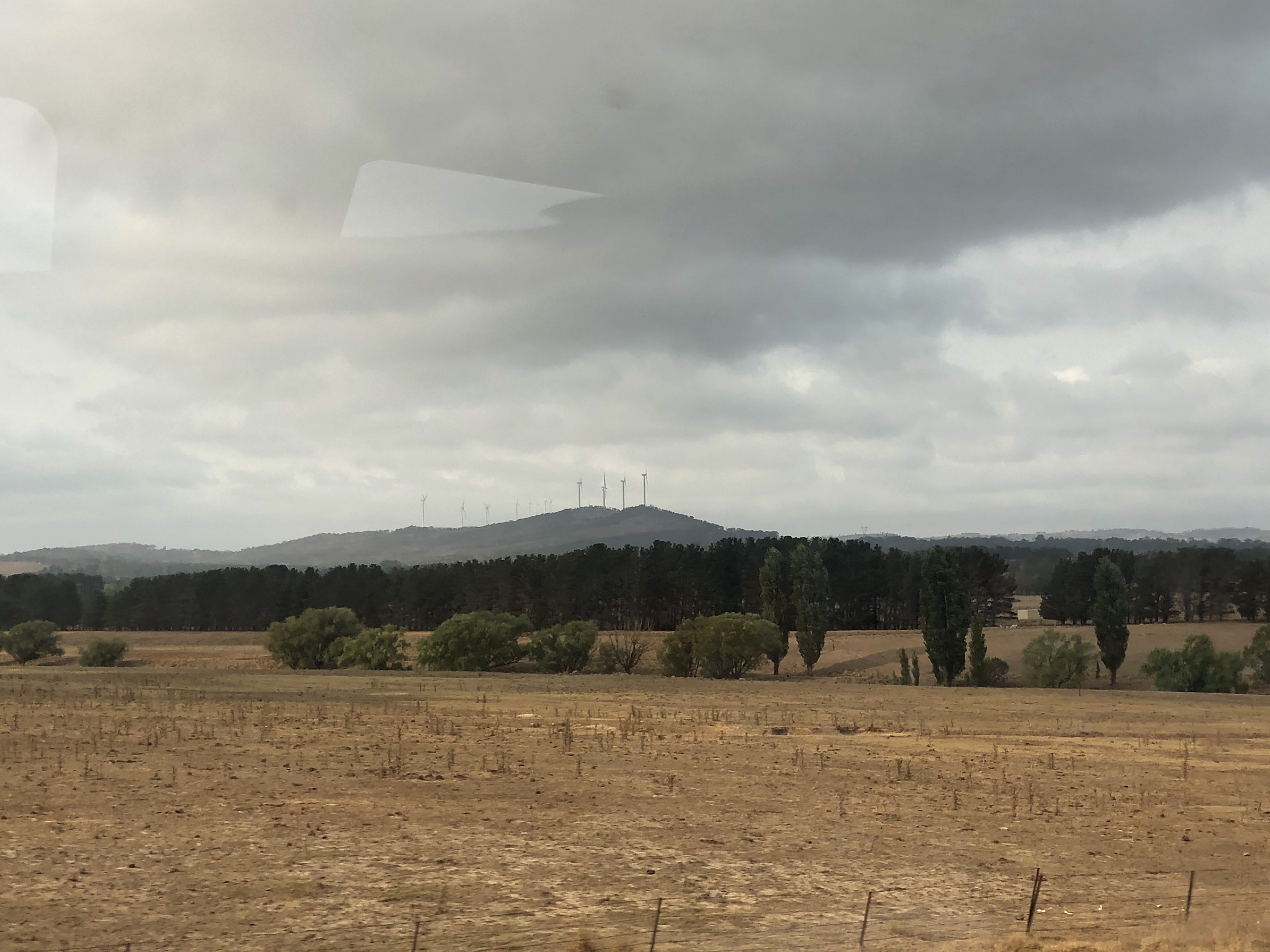 There are occasional stops at towns I've never heard of and may not ever again, indistinct signifiers of our journey's progress and little else. Some towns have a nearby park and no memory of the colour green to speak of; some, industrial sidings and rusty Winnebagoes parked on the street. The train stops at each station with a variable pause, the length of which seemingly connotes the town's relative economic significance and little else.
Suddenly, the passenger ahead of me jerks his seat's recline all the way back, banging its signifincant metal structure into my laptop. This is just a risk, I guess. I make use of the post-departure offer to "feel free to move about the carriage" as there are only 30 people on the train, and move two seats aft. I spot my first kangaroo, and notice a footrest for the first time, which is a nice touch and one of the marks against flying that I am desperate to spot to justify my 3 hour disadvantage over the alternative.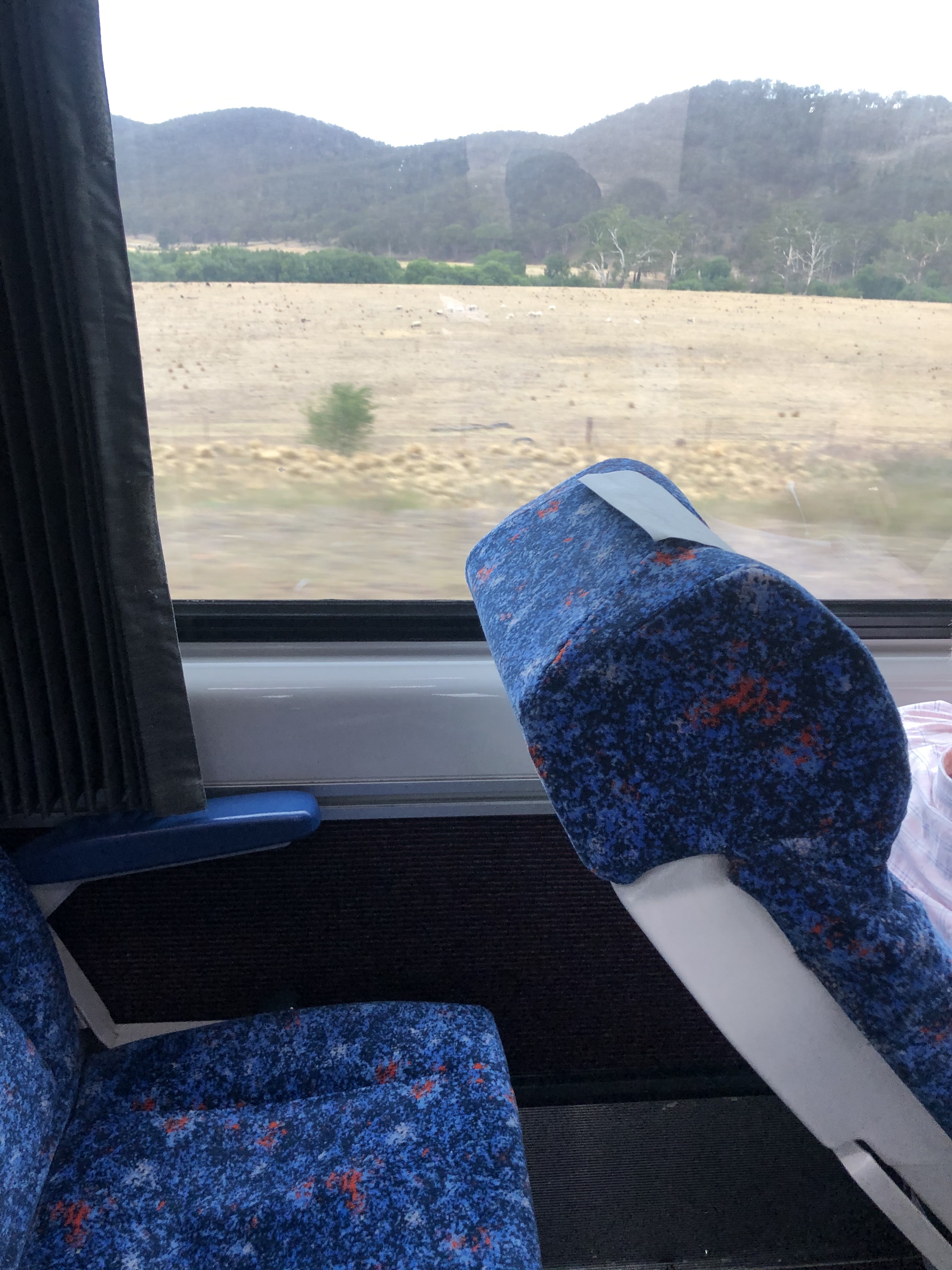 The train moves and bounces to an extent that is surprising, and can make moving around the carriage not so much a pain as an embarrassing thing to have to do in front of someone. Blessedly, NSW Trains have thought of everything and don't try too hard at marketing, so you have fewer people to see you make a fool of your wrong-footed self.
Even in the obvious drought, it is pleasant to see a few rivers that are flowing. Many unexplained piles of dirt dot the scenery and occlude views, and a train going the other way makes a sudden and dull "boom" in my noise cancelling headphones. The window scene turns green and I spot some ferns.
Alongside the four options at the start of the journey, there is a "buffet" at the front of the first class carriage. Its popularity renders it lightly used; it hosts an assortment of pre-packaged warm and cool food, including a surprisingly delicious lamington cupcake with marshmellow (?) in the middle and honestly it is pretty good! Considering the roller-door, pie-warmers and surly service, I fleeting get more transportation than I bargained for as I'm hurtled back to being 11 years old, out the front of the little athletics canteen. I take my seat and save my last marshmellow-filled treat for a small dessert.
Sabotage!
Suddenly, I am acutely aware that the cabin is absent of meat-smell, and that almost two hours has gone by on our journey. My suspicions aroused, I enquire at the always-staffed buffet, and am told an announcement was made "way back at graagnan" (or other indistinct town name of which I'm plainly ignorant). I'm offered a half-price sausage roll as recompense, and informedly forlornly that all of the meals have well and truly gone cold and been thrown out. I'm wondering what kind of business model involves asking people what they want, not taking any money, and immediately throwing it out when they don't appear to collect it at a time not previously discussed. I suddenly understand why nobody likes our country's trains. The sausage roll is fine and the Coke is fine and I am miffed.
I sit back, headphones off for a while, letting the frankly offensive suspension noise, that I up until now thought was too precious of me to mention, wash over me. An announcement comes over the public address system, and I mirthfully note that it is indistinct over the volume of the suspension squeak. I resume my noise-cancelled journey. We are halfway there and I wonder what other tragedy can befall a man sitting quietly in a 1x1m space. Sensing my quandry, my neighbouring passenger removes his shoes.
Bowral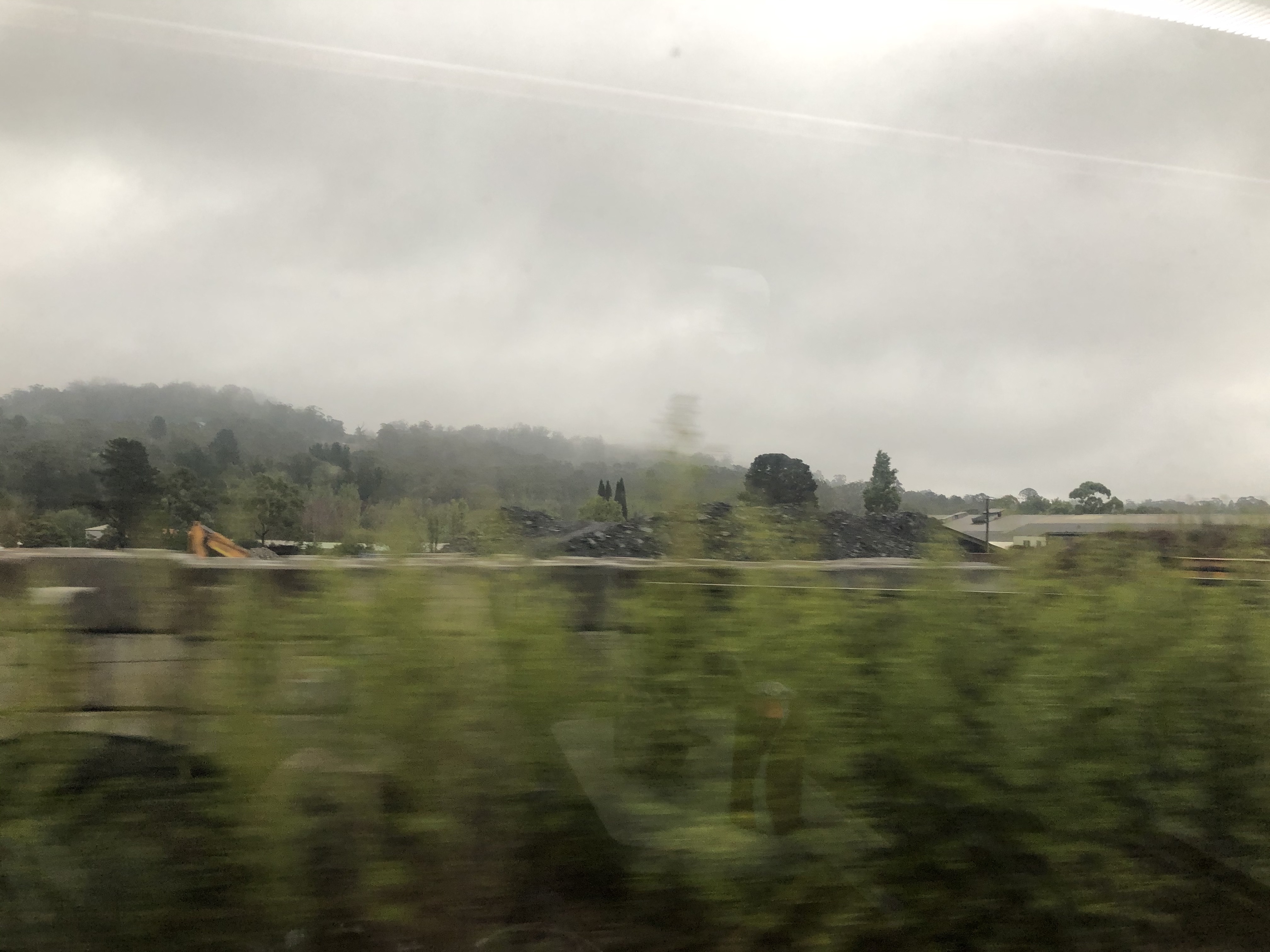 Bowral is wet. Bowral is green. Bowral has an enormous hole in the ground and feels as close to 'British mining town' as I have ever known. The clouds skim the top of a ridge to the west, and any sunburn obtained from a bright Canberra day is well and truly jarring in this new, damp environment.
I grow wearing of rueing my customer service experience so far, and stop thinking about my trip.
Dusk
Sunset is always a point of inflection on a train: like a bar with dimmed lighting, the scenery always looks assumedly better, and passengers invariably loses consciousness. Hahn is the only beer I can see available for purchase at the canteen buffet, so the carriage remains a hive of reading and postcard-writing (!!) for a little longer.
Only at this point in the journey are we alongside freshly burnt ground. Details are harder to discern, but the piercing sight of newly tangled corrugated iron sitting atop a loose agglomeration of cinderblock is a familiar scene to any Australia eye, and I am able to fill in the blanks from memories of newspaper front pages and other depictions of despair elsewhere. The sight of a well-lit, untouched Boral site next door is a dark, merciless laugh in the face of it all.
Outer Sydney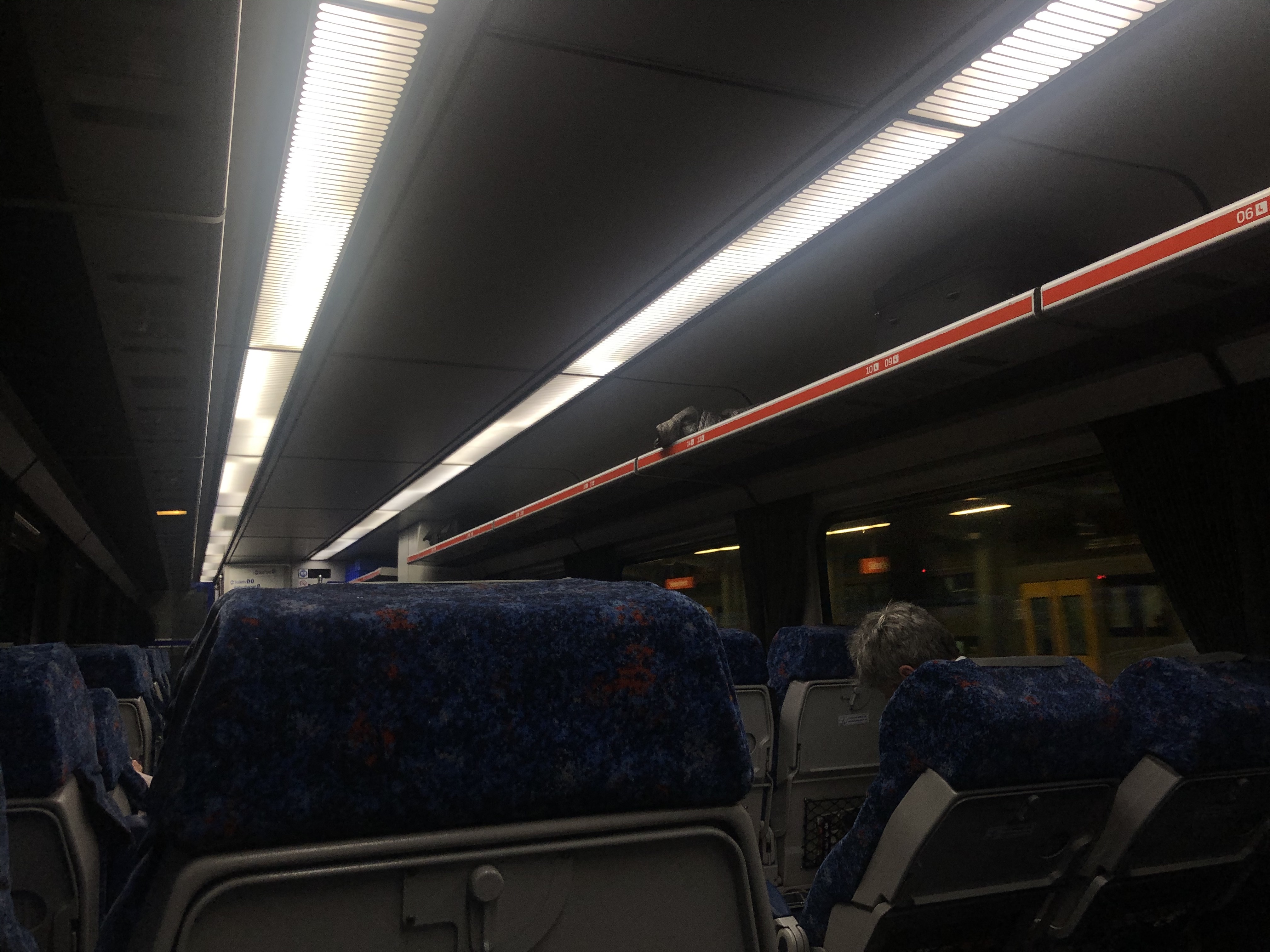 It's dark now, and I'm hungry. I've still got one lamington cupcake to go, but I want a drink — anything! — with it. The canteen is shut and the lady who previously delivered me some bad news about dinner clearly is out of sympathy for me, the hapless hungry traveller. There are 45 minutes until we arrive at Sydney, and she is counting money in the metal til and on the metal counter, a well-rehearsed, metronomic scraape, scraape. I return to my seat fed up with the unbountiful nature, the unmet promise, of train.
I note there is a 230V plug for electrical appliances, but this isn't enough to sway me in my depths of wanting a cool drink. Train is dead to me, aeroplane is my best friend now.
Train Pros
Reasonbly comfortable seats with good recline
Free to move about and stretch
Low carbon emissions
Slightly friendlier passengers, if that's your thing
Train Cons
Slower than a plane

I left work at 1645 and landed at Canberra at 2007, a trip time of 3h 22m that I could have minimised further had I left work later. A workable time, having only my backpack and no checked luggage, would have been 2h 42m.
I got to the station at 1650, to Central at 2116, and home at 2146, totalling 4h 54m of travel time.
This make it out to almost 2x slower

Bumpier (think of very mild aircraft turnbulance, for ~30% of the trip). Sipping from a can isn't an activity you can often do as confidently as you can on a plane. Typing can sometimes be tricky.
Tray tables aren't really enough for a laptop.
Generally poor customer service (not the delivery itself):

Unhelpful rules like you get called up for your dinner order, that you're not forewarned about
Buffet closes with an hour to go

No real lounge/comfort to speak of when waiting for your service
Poor cleanliness on table trays.
Suspension is incredibly noisy in the cabin. Like standing next to a raucous chicken coop for 4 hours. Unless you have noise-cancelling headphones, I couldn't recommend it.